Fabrics

Team Shop

Collegiate NCAA Fleece Fabric

University of Georgia Bulldogs Fleece Fabric
Style# CF GA-012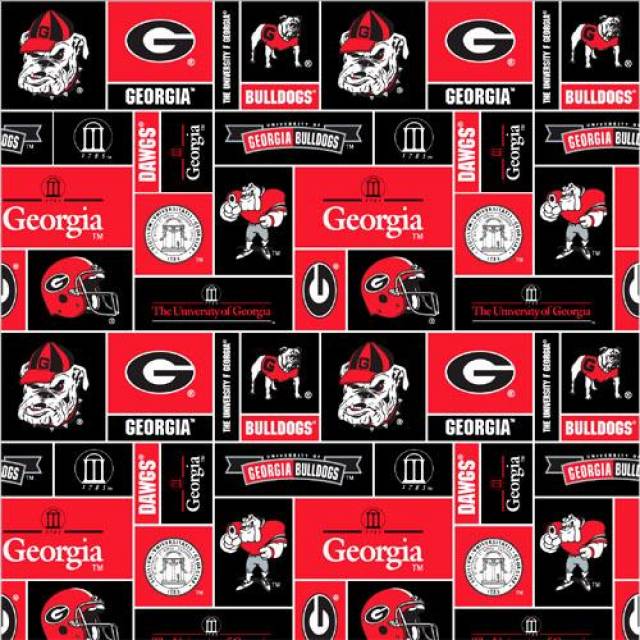 Click Image to Zoom
$13.95 Per Yard
Style# CF GA-012
In Stock: 32
Fabrics Information
Collection:
College Fleece Fabric
Style#:
GA-012
Finish:
Anti-Pilling
Fabric Weight:
Medium Weight
Contents:
100% Polyester
Width:
58-60"
Maximum Continuous Length:
10 yards
Washing Instructions:
Machine wash.Tumble dry low. No iron.
Legal Notice:
This item is for personal use only. Manufacturing of finished products for resale is illegal.
Coordinating Solid Fleece
$13.95 Per Yard
In Stock: 32
---
Our large Fleece Inventory includes our sought-after and hard-to-find printed fleece fabric patterns, including all MLB teams fleece fabric, NCAA teams fleece fabric, NFL teams fleece fabric, NBA teams fleece fabric. We also carry a wide range of Animals fleece fabric such as Butterflies Fleece Fabrics, Cat Fleece Fabrics, Dog Fleece Fabrics, Horse Fleece Fabrics, Monkey Fleece Fabrics, Zebra Fleece Fabrics, Leopard Fleece Fabrics, Giraffe Fleece Fabrics, Jaguar Fleece Fabrics, Safari Fleece Fabrics, Cow Fleece Fabrics, as well as our other famous fleece fabrics like Southwest fleece fabric, Baby prints fleece fabric, Sports fleece fabric, Military fleece fabric, and a large selection of colors in solid Anti-Pill fleece fabric. We also feature Cotton Terry Cloth Fabrics, sweatshirt fleece fabrics and cotton interlock fabric in addition to our fleece products. We are confident that you will find the exact fleece fabric that you are looking for, wether for personal or your wholesale needs. Order your fleece fabrics today or give us a call at (877) 353-3238 for all questions or concerns. A member of our fleece sales staff is waiting for your call. Thank you for your business and remember QUALITY AND SERVICE IS OUR PRIDE!!!